We Love You, Margret! 
Now you are taking care of the trees in Heaven and watching over our trees!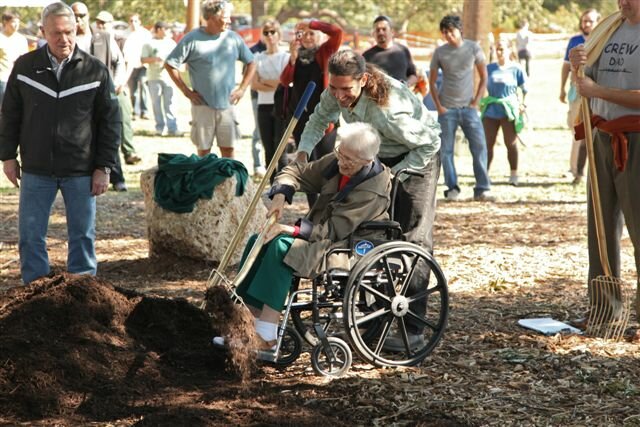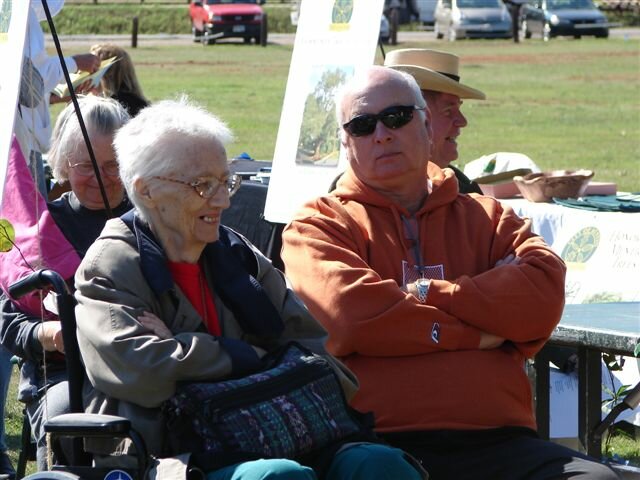 We are very saddened by Margret Hoffman's passing.  It is through her vision, determination, commitment and hard work that Austin has a Protected Tree Ordinance since 1975.
She was a very nice and sweet lady, with the determination of a tiger.  She attended the Heritage Tree Of the Year ceremony last October.  She saw Mother Pecan.  We told her that all of these trees and all of this improved attitude towards trees and involvement from the city and community were due to her.  She smiled shyly.  She was very humble when it came to recognizing the exceptional things she had done and how she left a legacy for all of Austin, for future generations. 
Many of the trees we have now are because of her.  She fought for creating the Tree Protection Ordinance back then while she was a City Council Member.  A female City Council Member in the 70s!  She fought for the trees, people, dogs, peace and public involvement, among many other important causes.  She made sure every single phone call from a citizen got returned within the day, and followed up.  
She gave it all, did it all, and her legacy is infinite:  The trees of Austin and the powerful inspiration for the tree advocates of Austin.

Memories from the Sunset Remembrance Gathering of tree advocates and friends of Margret, at the Peace Grove in Zilker Metropolitan Park: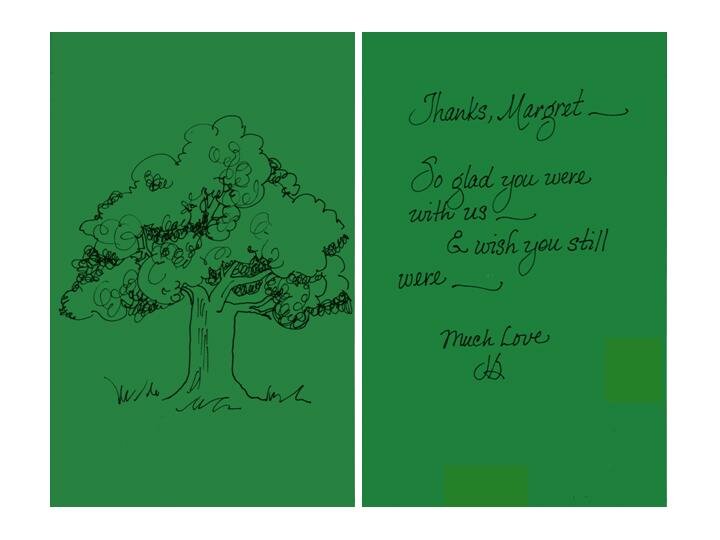 http://www.statesman.com/news/local/margret-hofmann-austins-tree-lady-devoted-her-life-2144773.html#.TzSWWAAbmeE.email
Austin American-Statesman, February 12, 2012:
 Margret Hofmann Margret Hofmann, 86, beloved mother and friend, passed away Thursday, February 2, 2012, surrounded by her family. She was born Margarete Elisabeth Schultze in Berlin Germany July 3, 1925. A happy childhood was cut short by the rise of the Nazis and World War II when she endured countless air raids, including the firebombing of Dresden, and then shortly before the end of the War, when her mother perished in Theresienstadt (Terezin) concentration camp. These experiences resulted in a lifelong sense of responsibility to create an atmosphere of nonviolence, to educate others to recognize clever propaganda, and to share her "knowledge, solidly based on personal experience, of the relationship between the theory and the reality of war." In 1946, after serving briefly as an interpreter for the American Army, Margret emigrated to the United States and worked in a children's hospital to support herself and to help her remaining family in Germany. During this time, she hitchhiked and bicycled across the U.S., stopping in Yosemite National Park to climb to the top of Half Dome. In 1950, she married pipe organ builder Otto Hofmann and moved to Texas, settling in Austin and becoming a U.S. citizen in 1954. They had five children together and, following their 27 year marriage, remained close friends. Margret and Otto joined the Religious Society of Friends (Quakers) as founding members of the Austin Meeting and remained active members for the rest of their lives, more than 50 years. Speaking to the conscience of people and nations to resolve their differences peacefully, she often cited a favorite story where George Fox, upon being asked for advice by William Penn about wearing a sword, Fox replied, "I advise thee to wear it as long as thou canst." Author of several books, including "A Key to Survival" (1962) and "Vietnam Viewpoints" (1968), as well as countless articles and letters to the editor, Margret's comments frequently appeared in periodicals such as Newsweek, Time Magazine and The Christian Science Monitor. She was a regular guest lecturer in schools and churches, sharing her wartime experiences to teach others the lessons learned, lest they be forgotten, in particular, "if you do not speak up when you believe that you have a justified concern, soon you will no longer be able to make your voice heard," echoing Rev. Martin Niemöller. After watching children walk to school in the streets, Margret successfully campaigned to have sidewalks constructed for their safety. She also served as the Austin area UNICEF chairperson for 25 years. In the early 1970s, she worked to establish "Think Trees Week" and served on a number of city boards including the Environmental Board. This led to her being elected to Austin's City Council from 1975-1977, where she was responsible for a number of initiatives such as Austin's Tree Ordinance and the Dog Leash Law. Because of her work literally to stop the bulldozers from destroying what is now Austin's "tree canopy", she is often credited with the beauty of Austin today. Adventurous and eager to see the world, with a network of friends to stay with all across the country, in 1987 she took a 7 month long driving trip by herself from Texas to Alaska, to New England and Florida and back to Texas. In between her many trips to Europe, she also travelled to Canada, Mexico, and China. A strong believer in living simply, Margret became a professional organizer later in life and provided "Food for Thought" to those making their final arrangements. She enjoyed a clever play on words, and was always up for a game of Scrabble, often playing simultaneously in German and English. Birthday and Christmas presents from her were most likely a book accompanied by a thoughtful inscription and a discussion. A friend once remarked that a phone call or visit with her "was like going to school" as it invariably included her knowledgeable perspective on current world events. A devoted Democrat, Margret lived a life of value and of service to others. For her lifelong efforts, in 2006 Margret was the recipient of the Human Rights Award from Church Women United, and the Margret Hofmann Oaks Park was dedicated in 2010 just across the street from Austin's City Hall, along Cesar Chavez Street, a location which pleased her so much. Margret was preceded in death by her former husband, Otto Hofmann; her parents, Friedrich and Frieda Schultze; her brother, Johann and sister-in-law Ruth Schultze; and her granddaughter, Katy Powell. She is survived by her children Franz Hofmann and Linda Ottmers, (Michael, Andrew, Brian) of Lockhart, TX; Barbara and B. J. Yerby, (Martin) of Decatur, TX; Anna and Steve Powell, (Kristi, Katy, Kevin, Eric) of Georgetown, TX; Heidi and Don Veselka, (Heather, Holly, Stephanie) of Round Rock, TX; Steve and Angela Hofmann, (Alexa, Stephen, Marshall, Karolina) of Bentonville, Ark.; and niece Brigitte and Arvydas Racinskas of Ohio. Margret was also a great grandmother several times over. Relatives and friends are invited to attend the Memorial Service at 2:00 p.m. on February 25, 2012 at the Friends Meeting of Austin, . The family asks that in lieu of flowers contributions be made to: Heifer International, , http://www.heifer.org/