MOTHER PECAN BECOMES A LEGEND AND WINS TREE OF THE YEAR 2011!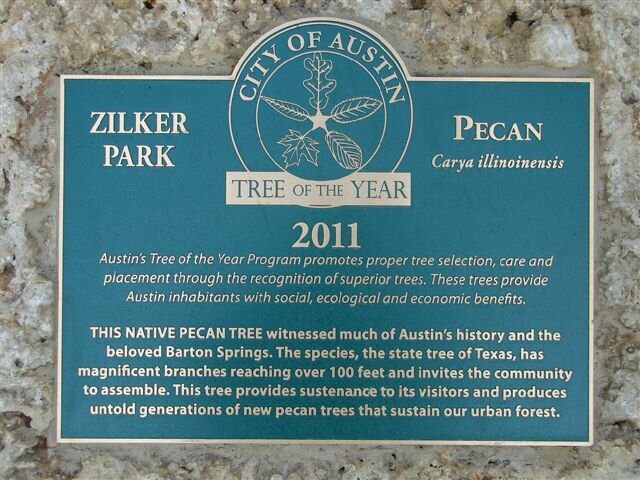 We are proud to announce that Mother Pecan won the Heritage Tree of The year award 2011.  AHTF submitted the application on behalf of the Barton Springs Pool Community.  This was our dear friend Susan Bright's favorite tree, and we know that she would have been thrilled. 
The award ceremony was October 29th.  All of our friends were there, the many non-profit environmental organizations and other groups that we respect and enjoy working with, like SOS, Sierra Club, Save Barton Creek Association, NWF Habitat Stewards, Texas Forest Service, City Arborist Office, etc.  
The community had the honor of Margret Houffman's attendance.  She enjoyed the speeches and visited with all and Mother Pecan.  Margret lead the effort to approve the Tree Protection ordinance in 1975 while she was a Council Member.  She also led the effort to compile Austin's tree registry, 1976.  Thousands of trees have been saved due to Margret.
Mayor Leffigwell, and city council members Laura Morrison, Kathie Tovo, and Sheryl Cole attended and enjoyed the festivities.  Both CM Tovo and Cole rode the Forestry truck bucket and got a high-up view of the grounds. 
Dr. Michael Benedikt, well known UT professor in the Architectural School-Urban Design, spoke of the beauty and irreplaceable characteristics of trees, of how they are such important elements of design, how we could be captivated by the shadows they make and how they change patterns of light, rain, and wind. 
Susan's poem "Legend", especially written for Mother Pecan and all of the BSP trees, was read by
World Poet Thom Woodruff
.  Thom read Susan's poem with all of his soul and heart.  Click  to watch this wonderful reading.
Bill Oliver,
Mr. Habitat
, folk singer, played the 1000 year old tree song.  What an inspirational song, so appropriate for these current urgent times of challenges to the Heritage Tree Ordinance: 
"You can plant a thousand seedlings, you can plant a thousand trees, but you have to wait a thousand years for a thousand year old tree…you can plant a brand new forest, new needles and new leaves, but there's nothing like the old ones if you're seeking true releaf".

It was a beautiful ceremony well planned and presented by Michael Embesi, City Arborist and John Giedraitis, Texas Forest Service. 
Bill played many more songs while volunteers reviewed information from the many booths, picked up free tree saplings, and enjoyed the bucket ride, carefully managed by the PARD Forestry crew, while children climbed a tree with the assistance of tree climber extraordinaire Nevic Donnelly of "It Might Be Monkeys" arborists.  
A beautiful plaque on a limestone block was installed by Mother Pecan.  It fits Barton Springs very well. 
It was a fun day, and I think Mother Pecan and all of the trees enjoyed the company!